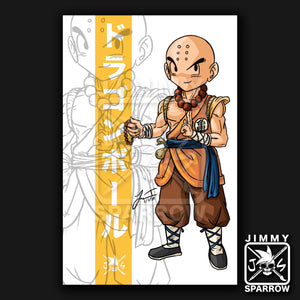 My own personal redesign of Krillin from the "Dragon Ball" series. Intended originally as a personal project, I only had a limited number of these prints made. I may not have them printed again so grab yours while you can!
"ドラゴンボール" reads " DRAGON BALL".
Printed on 11"x17" 100# Gloss paper.

ALL IMAGES ARE WATERMARKED FOR ONLINE DISPLAY. NOT VISIBLE ON ACTUAL PRODUCT.
Ships in a FREE Protective Top Loader Plastic Cover!