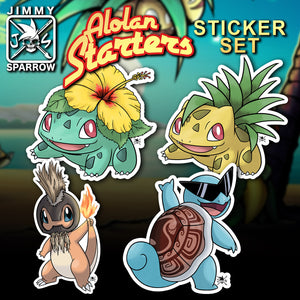 Alola (Japanese: アローラ地方 Alola-chihō) is a fictional region of the Pokémon world, inspired by our Hawaiian Islands. Perfect for local Pokémon fans, or visitors traveling to the "Alola Region!"

This is a 4 piece set of my personal "Alolan" starter Pokémon stickers!
Set includes:
Alolan Hibiscus Bulbasaur
Alolan Pineapple Bulbasaur
Alolan Night Marcher Charmander
Alolan Bruddah Squirtle
Approx. 3" each

All Stickers are made with High Quality Waterproof Vinyl.