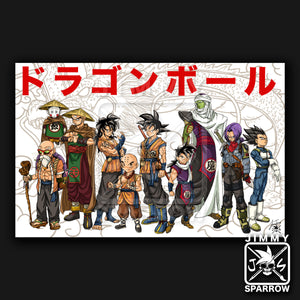 This is the finished product of my redesigned Z Fighters project. I started with my own personal design for Goku, and from there, I continued to personally design the rest of the Z Fighters, making for a cool group photo in the end!
"ドラゴンボール" reads " DRAGON BALL".
Printed on 11"x17" 100# Gloss paper.

ALL IMAGES ARE WATERMARKED FOR ONLINE DISPLAY. NOT VISIBLE ON ACTUAL PRODUCT.
Ships in a FREE Protective Top Loader Plastic Cover!